Family Law FAQ
Dec. 29, 2022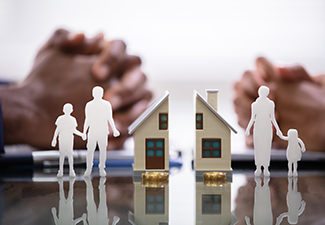 Family is the most important thing in life. That is why going through life-altering situations, such as a divorce, can be stressful and confusing. Please know you don't have to face it alone. Any questions you have can be answered by our family law attorneys at Emmerth Divorce Law, PLLC. We serve Naperville, Illinois, and neighboring areas including Warrenville, Wheaton, Oak Brook, Hinsdale, Downers Grove, St. Charles, and Geneva, so if you're in the area, reach out today.
I just got served with divorce papers. What are my next steps?
I always recommend my clients seek professional legal counsel at once. Getting the right legal advice from an experienced, licensed family law and divorce attorney will help point you in the right direction. From there, you can begin divorce proceedings knowing your options.
How long will it take to get divorced in Illinois?
An uncontested divorce can take a few weeks to finalize, meaning both sides agree to the divorce and separation terms. However, a contested divorce (where there is no agreement in place) can take up to a year to finalize.
What are the grounds for divorce in Illinois?
Please note that Illinois recognizes irreconcilable differences as the only grounds for divorce. These differences can result from many reasons leading to an irretrievable breakdown of a marriage. Consequently, the filing party or parties must prove there is no way to repair the marriage. For instance, providing evidence of abuse, adultery, or violence are ways to prove the marriage cannot be fixed. Otherwise, both parties must agree there is no way to repair the marriage when filing an uncontested divorce.
Will I be awarded alimony?
Spousal maintenance (alimony) is not automatically granted.
In an uncontested divorce, the parties agree on who gets spousal maintenance.

In a contested divorce, the court decides who gets alimony. The court bases its decision on the financial situation, health, age, and custody of minor children.
In some instances, spousal maintenance may be short-term. In others, it may be long-term. A general rule is that long-term spousal maintenance may be awarded when the marriage lasts more than eight years.
What is the difference between a legal separation and a divorce?
A legal separation consists of an official document in which one of the parties manifests the other party has abandoned the home. This document serves as evidence since Illinois courts require the parties to be separated for at least six months. As a result, a legal separation notice allows the filing party to prove the irretrievable breakdown of the marriage.
When is mediation a good option?
Mediation is a great option before filing official divorce papers. Mediation can help couples attempt to retrieve their marriage. If retrieving the marriage is impossible, mediation can help couples reach an agreement leading to an uncontested divorce. Then, it can help you and your spouse make final decisions through the divorce process.
Who gets to keep the home during a divorce?
In an uncontested divorce, the parties decide who gets to keep the main family residence. In a contested divorce, the court generally awards the main family home to the custodial parent when they do not have the means to provide a home. Also, the court may award the main family home to keep the children from moving to a new residence, protecting the children's emotional stability.
How do I make (or change) a child visitation schedule?
Visitation rights are part of a custody agreement. In an uncontested divorce, the parties agree to visitation rights. In an uncontested divorce, the court settles visitation rights and schedules. Requests to change visitation schedules must go through the court for approval. Changing visitation schedules without the court's assent can lead to custody issues down the road.
Protect What's Most Important to You With the Support of a Divorce Attorney
Don't hesitate to protect your loved ones. While hiring a divorce attorney in Illinois is not necessary, we strongly urge our clients to do so. Getting a professional divorce attorney allows you to protect your rights. At Emmerth Divorce Law, PLLC, our team is standing by to help you protect your family during a difficult experience such as divorce. Call today to speak to an experienced and professional family law attorney.